KDC-BT73DAB
CD/USB-Receiver with DAB/DAB+-Tuner & Bluetooth Built-in
Find your nearest Dacia Dealer
Where to Buy
DAB+ tuner built-in

Made for iPod & iPhone *

Detachable Faceplate

CD door

Optional IR remote controller

Equalizer built-in

Digital Time Aligment (DTA)

Bluetooth unit built-in
---
If you are looking for the complete package the KDC-BT73DAB is digital radio, Bluetooth, iPod/iPhone dual USB and CD ready. Kenwood's new high-end look is included on this Bluetooth hands-free model. Included is Kenwood's iPhone easy pair feature (iPhone 4/4S/5/5C/5S) once connected to the USB Bluetooth pairing is automatic. The iPhone Siri function (iPhone 4S/5/5C/5S) can also be used remotely. With the benefit of a 3-line full dot LCD display. It is a pleasure to use and will transform your dashboard. Designed specifically for iPod/iPhone control with search keys ergonomically placed around the volume controls. For the first time this Kenwood model includes front and rear USB inputs to cater for all your USB and iPod/iPhone needs. A sophisticated digital sound processor allows a multitude of audio adjustments.
Duster Access - (Dacia Part Number 7711599207):-
KDC-BT73DAB & 3-way speakers
Duster Ambiance & Laureate- (Dacia Part Number 7711599231):-
KDC-BT73DAB
Sandero Access & Logan MCV Access - (Dacia Part Number 7711599204):-
KDC-BT73DAB & 3-way speakers
Sandero Ambiance & Laureate Logan MCV Ambiance & Laureate - (Dacia Part Number 7711599229):-
KDC-BT73DAB
---
Key Features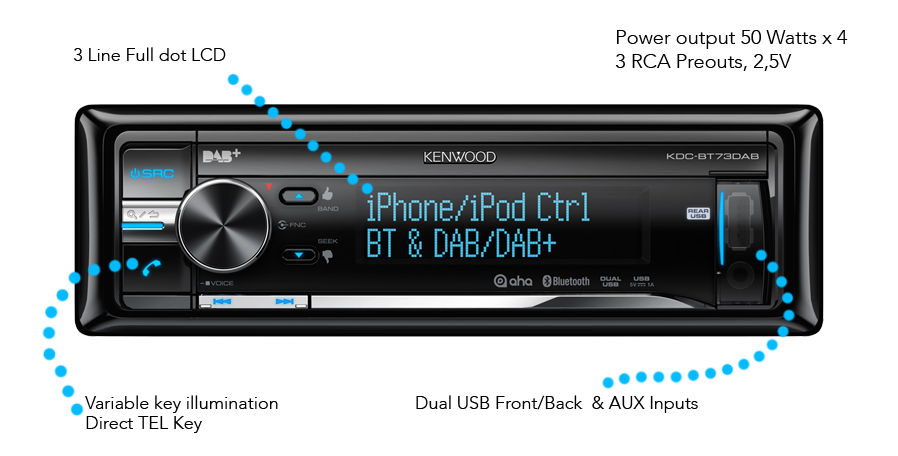 ---
Built-in Bluetooth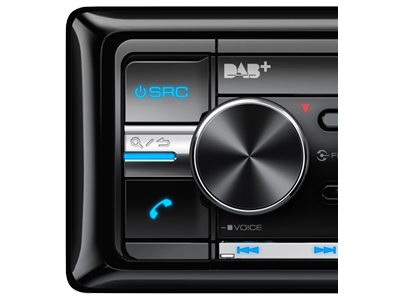 If you enjoy great music, talking on the phone with friends, and driving your car then we have a solution that allows you to do all three at the same time, safely. With Kenwood's Bluetooth hands free car kit technology you can enjoy a hands-free service.
- iPhone Bluetooth auto pairing when connected via USB
connection (iPhone 4/4S/5/5C/5S/6/6+)

- Automatic incoming call answering function.

- Making calls from phonebook.

- Making calls from incoming/outgoing call history.

- Direct dial function / Private talk function.

- Call interrupt indication.

- Voice control using Voice Dialing (iPhone 4S/5/5C/5S/6/6+)

- Phone registration (Up to 5 phones).

- Phone selection / Phonebook download from mobile phone.

- Remaining battery indication.

- Wireless Audio Streaming.

- Audio control from remote.

- Supplied with microphone
---
Built-in DAB/+ Tuner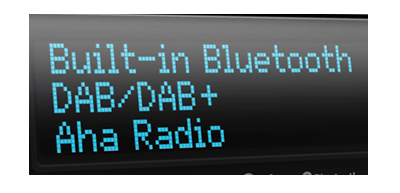 DAB is a digital radio technology for broadcasting radio stations, used in various countries particularly in Europe. In comparison to traditional AM and FM radios, DAB delivers cleaner, crisper sound due to the noise reduction implemented. Furthermore an upgraded DAB+ was released in 2007, which features a higher audio quality and better reception. Kenwood's built-in DAB+ receivers are maximised in design, top-end performance and affordability.
Using the latest digital chip set means listening to digital radio on the move is free of annoying breaks and distortion. Clever technology will even switch from DAB to FM (and back again) if there is a local signal problem.
FM/AM Tuner
A high quality FM/AM tuner with Presets (18 DAB / 18 FM / 3 AM). Mixed Preset Memory is also available which enables stations with a different band (DAB/FM/AM) can be memorised to the [1] - [6] buttons according to the setting of "Preset Type". The tuner comes with a traffic interruption option and radio data system.
---
Dual USB Front & Rear Inputs (iPod/iPhone & USB Devices)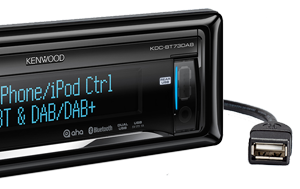 For convenient connection to your portable music device via the dual USB (Front/Rear) inputs or AUX input.
Portable USB devices or sticks make it possible to create and store compilations of your favourite music and bring them into the car for easy connection and playback via the USB (Universal Serial Bus). Compatible formats for USB are: MP3, WMA and WAV. The USB input includes a fast charging power supply.
They can even display tag information, provided the files are not protected by DRM (Digital Rights Management).
Support your devices at the same time with a front panel mounted USB input and a rear mounted input. Play your music from one USB input and use the other to charge your other device or switch between the two devices for playback (USB device & iPod-iPhone).
An LED status indicator for rear USB is found on the front panel and shows it is in use.
---
CD Playback
The protective CD door and cover keeps airbourne particles from interfering with the CD mechanism. Furthermore this unique idea gives a sleek look on the dashboard, by hiding the disc slot on the front.
Playback home recorded MP3/WMA/AAC discs.
Playback track features: Random Function (Track), Repeat Function (Track/Disc) and Scan Function (Track/Disc).
---
Removal Front Panel
To help protect your desirable new in-car receiver the complete control panel can be easily removed and stored away from the vehicle.