Detachable Faceplate

Made for iPod & iPhone *

Optional IR remote controller

Bluetooth unit built-in

Front USB & AUX Input
---
The first in our range of Bluetooth hands-free solutions which also has iPod/iPhone direct control and USB features. On the hands-free front this model includes iPhone easy pair feature (iPhone 4/4S/5/6/6+) once connected to the USB Bluetooth pairing is automatic. The iPhone Siri function (iPhone 4S/5/6/6+) can also be used remotely. Other USB music storage devices can also be connected such as a portable hard-drive, USB stick etc. A cool 13-character display gives easy visibility even in sunny conditions. A high power 4x50watt built-in power amplifier will fill your car with high quality sound from any source.
Duster Access - (Dacia Part Number 7711599206):-
KDC-BT43U & 3-way speakers (Front and rear doors)
Sandero Access & Logan MCV Access - (Dacia Part Number 7711599203):-
KDC-BT43U & 3-way speakers (Front doors)
---
Key Features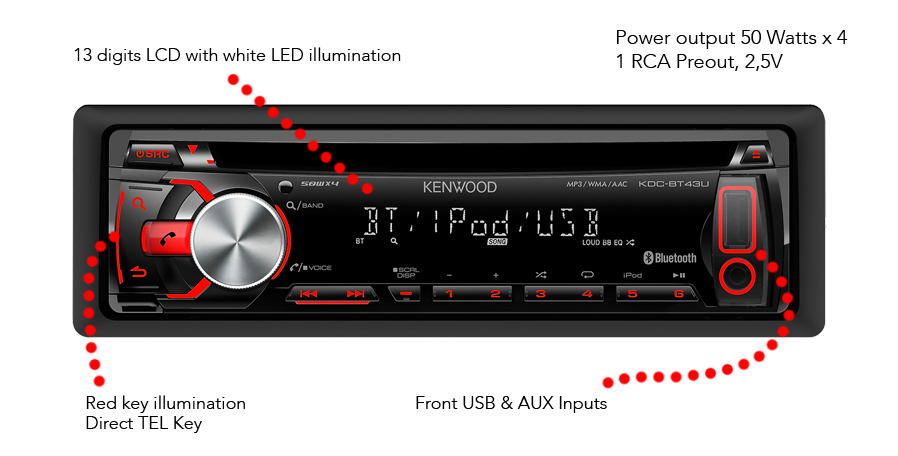 ---
Built-in Bluetooth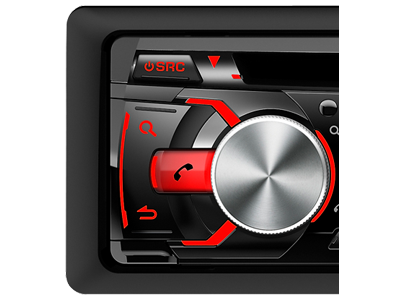 If you enjoy great music, talking on the phone with friends, and driving your car then we have a solution that allows you to do all three at the same time, safely. With Kenwood's Bluetooth hands free car kit technology you can enjoy a hands-free service.
- iPhone Bluetooth auto pairing when connected via USB
connection (iPhone 4/4S/5/5C/5S/6/6+)

- Automatic incoming call answering function.

- Making calls from phonebook.

- Making calls from incoming/outgoing call history.

- Direct dial function / Private talk function.

- Call interrupt indication.

- Voice control using Voice Dialing (iPhone 4S/5/5C/5S/6/6+)

- Phone registration (Up to 5 phones).

- Phone selection / Phonebook download from mobile phone.

- Remaining battery indication.

- Wireless Audio Streaming.

- Audio control from remote.

- Supplied with microphone
---
FM/AM Tuner
A high quality FM/AM tuner with Presets (18 DAB / 18 FM / 3 AM). Mixed Preset Memory is also available which enables stations with a different band (DAB/FM/AM) can be memorised to the [1] - [6] buttons according to the setting of "Preset Type". The tuner comes with a traffic interruption option and radio data system.

---
iPod/iPhone Music Playback

Plug your iPod/iPhone into the front USB input via your white Apple USB lead and away you go. Simply press the search key to access a variety of search modes. With Direct Search, simply enter the first three letters of the playlists, artist, albums, songs, podcasts, genre or composers and by turning the knob right/left, get a list of songs. It is also possible to search using Alphabet Search, Skip Search and Related Search functions.

---
USB/AUX Front Inputs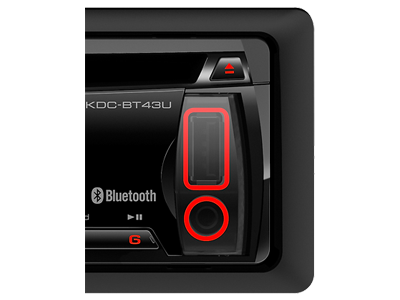 For convenient connection to your portable music device via USB or AUX input.
Portable USB devices or sticks make it possible to create and store compilations of your favourite music and bring them into the car for easy connection and playback via the USB (Universal Serial Bus). Compatible formats for USB are: MP3, WMA and WAV. The USB input includes a fast charging power supply.
They can even display tag information, provided the files are not protected by DRM (Digital Rights Management).
The terminal is on the front of the unit and has a sliding illuminated cover to avoid dust and ensure more secure connection.
---
CD Playback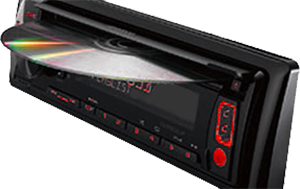 The included CD player can also playback home recorded MP3/WMA discs.
Playback track features:
Random Function (Track), Repeat Function (Track/Disc) and Scan Function (Track/Disc).
---
Removal Front Panel
To help protect your desirable new in-car receiver the complete control panel can be easily removed and stored away from the vehicle.